About Hilton Head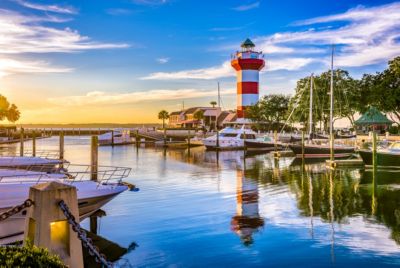 Hilton Head is an island off the east coast of South Carolina, United States. There are several public beaches, along with dozens of private beaches. Hilton Head's most famous and historic location featured above is the Harbour Town Lighthouse. Hilton Head is known for its many beaches, golf courses, plantations.

Fun Facts about Hilton Head:
Over 1 million rounds of golf are played on the island yearly
The island was formerly known as the tennis capitol of the world
There are over 60 miles of bicycle trails
---
Transportation
To get to Hilton Head, either book a flight to the Hilton Head Island airport, or drive onto the island over the bridge on US Highway 278. Also, take Amtrak from Savannah GA to Hilton Head on a short 45 minute ride

Transport in and around Hilton Head using one of many choices:
Rental Car
Bicycle
Trolley
Uber / Lyft
---
Climate and When to Visit
Weather in Hilton Head stays relatively warm year round, featuring temperatures as high as 100° Farenheit in the summer and no lower than 40° on average in the winter. In rare cases, Hilton Head may experience snow, however in recent years the larger threat has been hurricanes. Hilton Head remains warm enough for the majority of the year to walk around in short pants and a t-shirt or pants and a light jacket.
The most popular time to visit is between Easter and Labor Day, and around mid April. Hilton Head Island's official beach season is between April 1st and September 30th. A good time to go the beach would be in May. Also, if you are interested in going to Hilton Head to see the Heritage golf tournament, it begins around mid April. Hilton Head typically sees low rainfall in the winter and more rain during the summer.